Pasta GIGLI WITH ANCIENT ORGANIC GRAINS
PASTA GIGLI biological ancient grains 500gr
Products with milled organic flour milled in the mill of the company, drawn in bronze and slowly dried and at low temperature. It contains fibers and minerals, more digestible and with a lower glycemic index.
Ingredients: durum wheat semolina Senator Hats, soft wheat flour Verna, water at 30%
Security payment
Delivery methods
Shipping and Returns
PASTA GIGLI biological ancient grains 500gr
Mulino Val d'Orcia before being pasta masters are farmers and that's what makes a difference!

Lilies are made with stone-milled organic flours in the mill, drawn in bronze, slowly dried and at low temperatures.

Lilies, like the other types of pasta in the Mulino Val d'Orcia are a handicraft product, the surface is extremely porous and able to retain the sauces; Simply tasting it with good extra virgin olive oil you can recognize their unmistakable flavor. The pasta has a characteristic amber color.

The Val d'Orcia Mill Mill is produced using valuable varieties of ancient grains grown in a farm with a biological method such as: Granary Sage Senatore Cappelli and Verna Grain which give the product quantities of fibers and minerals larger than industrial products, while maintaining Unchanging the grain's lipid-lipid properties. The obtained paste is more balanced and easier to digest and especially with a lower glycemic index.
:: - ingredients - ::
Durum wheat semolina Senator Cappelli, soft wheat flour Verna, water at 30%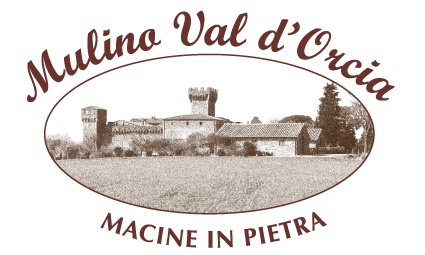 Data sheet
###

ALLERGENS
FEATURES

Package ::

Pacco

Quantity ::

0,5 Kg

Origin of raw materials ::

Italy - Tuscany - Siena

Certifications ::

CCPB

Origin ::

100% Italy

Variety ::

Ancient grain - Senator Cappelli

Color ::

Amber

Storage ::

Cool dry place

###MANUFACTURING

PROCESS

Manufacturing Process ::

Stone-ground flour, Bronze drawing, slow drying at low temperature

###NUTRITIONAL VALUES

(for 100 g of product)

Energy [Kcal] ::

348

Proteins [g] ::

12,2

Fatty [g] ::

1,55

Saturated Fatty Acids [g] ::

0,3

carbohydrates [g] ::

69,52

of which Sugars

0,2

Total Fibers [g] ::

3,48

Salt [g] ::

0,005

Gluten ::

INCLUDED
No customer reviews for the moment.